You are on the right page if you want to know how to GET seo-friendly, traffic-winning CONTENT WRITTEN. This post will give you descriptive steps on how to create a blog outline.
Suppose you are a digital marketing agency, someone from a content marketing team or an in-house SEO expert. In that case, you must have come across situations where the content you suggested to be written could be more search engine friendly. Content writers try their best to write content for users. Still, it may be difficult for them to align it with the business' content strategy.
That is where a blog outline comes in.
What you will find in this post:
What is a Blog Outline?
A blog outline is a guideline for content writers to write excellent pieces and integrate SEO best practices there. This process helps them to write naturally sounding content without sacrificing quality and on-page optimizations.
Content outlines also give control to the marketing team over quantity and quality. The published article can gain better rankings because content outline makes valuable recommendations on keywords, word limits, content subtopic structure, FAQs, and more.
Additionally, a descriptive blog guideline can help manage expectations of the stakeholders and help content writers convey the idea in an information rich format without having long meetings and a number of iterations.
Please note that I am not talking about template-based blog posts. Templates, imho, are restrictive. A good outline should allow content writers to write SEO optimized content and also be free in their style. A separate and personalized outline should be made for each topic. Though, the process by which these outlines are made can be made scalable to an extent.
Bonus benefit for SEOs & Project Managers: Keyword research done for a blog outline can serve as a single source of truth for:
On Page SEO optimizations (Title, Meta tags, Slugs, headings etc.)
Anchor text for backlinking
Tracking your content/page performance
Prerequisites for a Good Blog Outline
First, you need to have an answer for these questions:
Do you have a topic for the content?
If yes, then go ahead with the process. If not, you need a topic. You can easily find blog topics by using keyword research, finding your customer's pain points, or using any third-party content finder tool. Broad topics generally have a high level of competition; thus, it takes a bit more effort to get them to rank for queries.
Do you want the content on the site for purposes other than ranking?
If you create a blog post as a supplementary page or you have another goal in mind, you do not need to optimize it for SEO this well. The process below is more valuable when you want the page to rank for specific keywords and gain traffic.
Do you have an idea about the user this content is going to be for?
You need to understand for whom this content is going to be. Keeping a user persona in mind will help you decide what should be included in the content for the subject audience.
Process of Creating a SEO Friendly blog outline
This section has the descriptive steps on how to create a blog outline.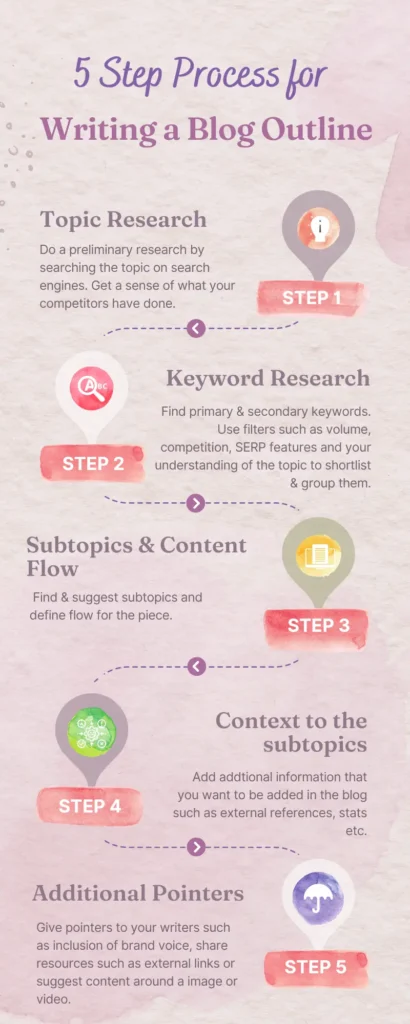 Step 1: Research the Topic on Search Engines
Assuming you have the topic, you must first do preliminary research by searching the topic on search engines. This helps you understand the ranking and content of the SERPs.
Analyze the results that come up during your search. If there are a lot of ads, image packs, and other featured snippets, the first site link organic result is below. Is creating content for the said keyword/topic viable at this point?
Try some variations of the keyword and then see what kind of results pop up. If they are something worth considering, proceed.
Step 2: Keyword Research for Blog Outline
Now that the topic is worth exploring, you should do extensive keyword research. To do keyword research for the content outline, follow this process:
Use your topic idea to get top-ranking results. Find the keywords they are ranking for the same topic/page. You can also harvest keywords from search engines autocomplete and other sources you know of.
Choose a primary keyword(s). This is the keyword you definitely want to rank for. You can choose keywords according to your criteria. I generally look at country volume, global volume, click ratio, competition, and SERP features for a keyword and then decide to keep the keyword as the focus keyphrase. This is important because you want to avoid a focus keyphrase where you are not getting clicks among your target audience. Also, if the SERP pages for that KW suggest something different, you should create a different strategy for your content.
After you have chosen a focus keyword, look for the top 10 (even 30) results on the search engine for that keyword. Use tools such as Ahrefs or keyword planner (keywords from URL) to find additional keywords they are ranking for. This gives you more keywords to work on. This will also give you some FAQs and long-tail keywords.
While Looking at Competitor Keywords:
While searching for keywords your competitor page is ranking for, ensure you only look at those ranking at positions 1-30. Otherwise, you would find a lot of clutter, and you may take non-relevant secondary keywords for your content. Also, make sure you have put up a relevant target country as a filter.
Additionally, I use the keyword researcher pro software [With poxy setup]. I use it to find "autocomplete" queries to find long tail keywords and harvest keywords when there aren't any on other tools. This tool takes some time to gather keywords, and a lot of garbage must be thrown out. Remember to use your filters to shortlist keywords. You do want to optimize an 800-word article with 50 keywords. Another relevant way to shortlist keywords is to think of user personas. Are the keywords you found relevant to them?
Choose some secondary keywords. Secondary keywords are those that can also make for subtopics in the content. They can also be things very relevant to the primary keyword. Note that secondary keywords are NOT different forms of the same primary keyword.
Example: outline of blog, outline blog are the different forms of the same keyword: blog outline.
Before finalizing the keywords ask yourself these questions:

Do these keywords have the potential to represent the topic correctly?
Can the keywords be converted into subtopics? If yes, is it prudent to include these subtopics in the main topic? Or should it be spun as a different article for solving a different problem?
Are these keywords different or do they all essentially mean the same?
Now that you have done your keyword research you need to understand what your competitors are doing with your focus keyphrase.
Fluffing your content using keyword stemming is not ideal. But you can use it constructively in case your content writer is unable to use keywords naturally in between content.
Step 3: Suggest subtopics and flow for the blog outline
After you are done with keyword research, you need to check out what your competitors are doing. Put the focus keyphrase on google and see what result pops up. You may see a pattern in the type of articles that are ranking. You may see listicles, or you may see review articles. Previously, it made sense to blindly follow the pattern since those were ranking things. This process might not be worth pursuing after the "helpful" content update on Google.
What can you do?
You still analyze the SERP. Check out the top 10 results, or maybe even 50 if the competition is high and see what content they have. Remove the outliers in subtopics to figure out a pattern. You will see that these pages have common topics and keyphrases. These are the ones you should recommend your content writer to add.
Make Sure: Use a proxy or VPN to see the top-ranking results. Set your target country for which you are trying to rank. For bloggers, you should target tier 1 or tier 2 countries, as the RPM for ads served is better. For business sites, you can choose as per your target audience geo.
Here, you also need to consider the type of people you target. Think user persona. Use subtopics that may be useful for them.
Now, after you have your subtopics and some recommended content, you need to define a flow for the piece.
Defining the flow of the blog post is easy. Consider this example: Your topic is "how to create a blog outline".
From the top 10 results, some subtopics make a lot of sense, and they should definitely be added to the content. Not because others have included it but because it would be helpful for the visitor. Subtopics like:
What is a blog outline?
Why create one?
Process
Tips on creating a good outline
Examples
FAQs
The flow of the subtopics makes sense because you would first want to give a brief intro about what a blog outline is. I said briefly because the topic is "how to create a blog outline" and not "what is a blog outline, how to create one?".
This is one of the places where your blog outline helps content writers and serves as a guardrail.
All subtopics are arranged in a fashion that makes a natural flow your user might want to read.
Please note that these subtopics are not exhaustive. The writer needs to add/remove content headings as per their knowledge of the subject. For example, they can include expert quotes or processes for creating a short-form blog post content outline and a long-form blog post outline. They can remove the example subhead and add short examples under each heading.
Bonus tip: Make sure to go beyond and look at more than 10-15 highest-ranking pages for your focus keyphrase. You can look at some YouTube videos and use Reddit communities for pain points. Or you can hunt to find more information for your topic elsewhere than SERPs. This will help you add depth to your data and add value for the user. Original content in SEO nowadays does not mean something that has never been on the internet.
Step 4: Add more information to your subtopics in blog outline
This step is optional. Now that you have defined a flow for the content, you need to add some more information.
You can add references/external links you found during your research into the topic.
You can also add some stats or concepts you want to include in your blog post.
Furthermore, you can ask the content writer to suggest your product to solve the problem stated in the subtopic.
Step 5: Give your writers additional pointers and resources
Tell them the context, why you want to publish the topic, and how your product or service fits into the subject.
Convery about the audience you want to target. If you have a persona already created, you can share them.
If you like your content to be written with a distinct brand voice, you need to share the how To's with them. If you have a brand guideline for content or a style guide, you should share that/some part of that as well.
You can advise them on using H2s & H3s properly or ask them to use important bold words in the paragraphs. You can also recommend them on keyword density (or avoiding keyword stuffing).
You can share essential resources you found during the research so that the writer can use them best.
If you want to add infographics and illustrative images, you can suggest adding content around them.
Blog Outline Example:
Going meta and giving you a sample guideline for topic: "How to create blog outlines"
General Information:
Focus Keyprase: Blog Outline
Secondary Keywords:
Recommended Length: At least 123 words
Note:
Make sure to conduct a thorough research for the topic while using this content outline before writing your piece.
Make sure to read out brand voice and guidelines for content writer.
After you are done with the content, please go through the reference links. If the quality of your piece is better than the competitor's page, please submit it to us quickly.
Content flow:
Introduction
What is a blog outline?
Define in brief.
80-100 words
Why create one?
Explain benefits for users, content writers and SEOs.
Mention some stats. Such as a creating outline reduces overall content publishing time by x%. (give source).
(Suggested Media): Infographic showing benefits of creating blog outlines
Process of creating the best content outline
Recommended to be extensive, detailed and to the point.
Mention in steps, each step should serve as a heading [H3] and then later explained well in a paragraph
Suggest YOUR DM agency can do the research for your content writers, create outlines and reduce turnaround time for content publishing. [CTA]
use secondary keywords – blog outline creation process, research for content outline…
Tips on creating a good blog post outline
Try to include at least 7 tips.
These tips should be relevant to the target audience (SEO's, content marketing team, DM agency)
Reference: https://www.grammarly.com/blog/how-to-write-outline/
Reference: https://www.wikihow.com/Write-an-Outline
(Suggested interactive element): tips in expendable tabular form along with potential benefits, for who (persona), etc.
Examples
FAQs
Reference Articles:
xyz.com
abc.com
example.com
example2.com
youtubevideo.com
twitter-tweets.com
forumthread-with-more-info.com
Summary
Ok, so this looks like a lot to read! I will sum it up for you.
First, you should research the topic by looking at different search engine results page (SERP) results. Second, you do extensive keyword research.
Secondly, you analyze the top 10 pages for your focus keyword and find subtopics you want to add to your post.
Third, you suggest a flow for the subtopics you found, so the content would make sense to the reader.
Fourth, you give your content writer additional information for the depth of the subtopics.
Lastly, you let them know of any additional pointers for the content.
If you need your blog post to be visitor-friendly, give them some value and be comprehensive. Doing a good amount of research and adding subtopics that might help them, you will help create a piece that is both rewarding to your visitor and your page rankings.
Tips on Creating Blog Outlines for Different Types of Blog Posts
There are several types of blog posts, and each has its own advantage. Earlier, if a user query showed listicles in the top 10 results, teams would also follow that pattern for their content. Since now, search engines try to deliver unique content to the users to satisfy their intent, there may be better practices than this.
Anyways, here are some tips for creating different types of blog outlines:
Listicles:
Creating a content outline for listicles takes time and effort. The onus of primary research lies with the creator of the blog outline for listicles since his defined flow almost always dictates the article. This is different from other outlines since, in other cases, the writer has a much bigger canvas to try out new things in their content.
Once the main items have been defined, a writer has to research, placing convincing text for each item.
Always include the most popular products/services known for your topic.
It is okay to include your competitors, and you can always downplay their USPs 🙂
Remember, the purpose of a listicle is to break down content easily consumed by the user, so you need to write brief and to the point.
Always give context to why you are publishing a listicle. It can be a use case or a problem that your mentions can solve.
For the content part for each list item, be sure to include the intro, why, USPs, and how and why the list item solves a particular problem/how it helps.
Use numbers for your items and categorize the list logically.
How to Guides:
For how-to guides, you need to do some further research. When you see the top-ranking articles on SERPS, try to figure out what they missed. Also, look at the comments or tap into communities such as Reddit. You can go in-depth with your steps or add the queries you found as FAQs.
If you need to be made aware of the complete process of the topic, you can define the flow for the content and structure your subheadings. On a higher level, you can suggest what you want to be included in the guide.
Explain each step in good detail. Try to think of what a person might think while reading your steps and what information they need.
If the content is technical, try to explain every aspect of the step. But also be concise and to the point. As a rule of thumb, after you have written the steps, imagine yourself doing those steps. If you need more information and incomplete steps, add it to your content.
Guest Blogs:
For guest blogs on an okay-ish external site, it makes sense to put little effort into creating an outline.
You can also use online tools (Jasper, Rytr, etc.) to create an okay enough outline for you automatically. You can later edit and add subtopics and content suggestions. These tools will save you time and help you prioritize.
For guest blogs on a high-quality, authoritative website, you must first understand what content the website regularly publishes. You may want to imitate their brand voice and the patterns they frequently use to get your guest blog passed in the first go.
Since you want to promote your business through a guest blog, make sure you add contextual internal & external links. It would be best if you optimized them for keywords/their variations in anchor text relevant to your business. For this, you may also need to place text mentioning your business in your guest post strategically.
Case Studies:
It is a good idea to inculcate storytelling in case studies. Simply stating facts and stats may bore a reader. Storytelling provides a hook to the reader and opportunities for the writer to impress the readers.
You do not need extensive keyword research for case studies. Still, you can capitalize on long-tail keywords—for example: how an automobile OEM solved logistical challenges in zero inventory with ABC company.
Always back up research and external studies with links.
Including testimonials, recommendations, and quotes from the client is a good idea. Don't forget to ask for their permission 🙂
Note that you can take the help of a content writer for proofreading or speeding up your content creation. There are better ideas than a blog outline for a case study. Case studies can best be written by the person who supported/managed/executed the project.
Review Articles:
There are several ways to create a blog outline for a review article, but you still need keyword research.
The process for keyword research and analyzing the SERPs remains the same. Still, you may need to create your flow for structuring the review article.
An extensive review should clearly state the methodology for the review and the explanation of ratings or points. If you have a standard review system, you can always link it to the subject article.
Ideally, the review should be for particular products or services and not for a category or list of items. This is also helpful for appearing in the review snippet in search results.
FAQs
Do I need to be a subject matter expert for creating blog outlines?
No, the process I mentioned does not require you to be a subject matter expert. The actual content is recommended to be written by an expert in the field. That is why you need only to suggest some keywords, subtopics, and pointers. Do not mandate them for your content. The SME/content writer will still lead the piece and should write what he thinks is best for the users.
What are the parts of an outline?
There is no standard template, but the outline generally has these parts:
Title
A Hook (introductory sentences)
Suggested subtopics and additional information
FAQs
References/sources
Conclusion
Why do I need to create a blog outline when AI copywriting tools can do the heavy lifting for me?
You are absolutely right; AI tools have come a long way and can produce okay content. This is fine for a guest post. But for you to actually provide value to visitors, you need a human touch. That is what the research in a blog outline is for. AI cannot decipher what your visitor might actually need. It can only provide you with a synthetically cooked meal based on presets. It would be best if you used AI copywriting tools to improve your sentences, headlines, and other small-time stuff.
Why not use templates for creating blog outlines?
Templates are best used when you want to publish standardized material on a scale. Usually, this is different for most blog posts. They are much more personalized and are meant to provide unique value to every visitor. It is good to keep in mind a structure, though. Once you create a blog outline, you can definitely use that as a generalized structure for more topics.
But remember to keep sight of what you want to achieve – help users complete their goals on your site. If your generalized template can do that, you are good to go.
This seems like a lot of work. How can I be efficient and still create a good blog outline?
This is indeed some work for a blog outline. But it is rewarding and helps you, the writer and the user. Initially, getting comfortable doing research and creating outlines will take some time. But as you research, you understand a lot more about the subject than others creating outlines just for the sake of it. You gather subject knowledge, and later it helps you develop outlines quickly.
To be efficient, it would make sense to give the task of creating outlines to a single person from the beginning. Once a person gathers knowledge about the subject, they can quickly create more outlines. It definitely gets easier as you move forward.
You can pick a narrow topic. Broad topics will need a lot more research and higher-quality content. Narrow topics generally have a lower volume but are easier to rank for specific, long tail queries.